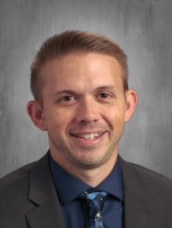 HS/MS Head Coach
Tim Litteral
Coach Litteral has served as Augusta's cross country coach since the high school team's return in 2011. He has since added a middle school and elementary team, and coached all three levels until 2021. He continues to coach both the high school and middle school team. Since 2012, Augusta has had at least one runner qualify for the KHSAA State Championship Meet in every season but one. Augusta made its first boys team appearance in program history in 2017. In 2020, the boys team won the Region Championship and finished 11th out of 33 teams at the State Championship. In 2015, Coach Litteral brought a track program back to AHS. Mr. Litteral also has several other duties in the athletic department including Media Relations and overseeing the athletic broadcasts. Mr. Litteral is the Director of Finance & Technology for Augusta Independent.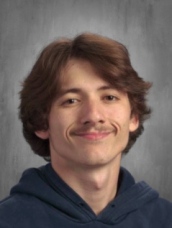 Assistant Coach
Jared Jefferson
Coach Jefferson joined the corss country staff in2022. He graduated from Bracken County High School in 2019 where he ran cross country and track. He has personal best track times of 2:05.85 in the 800, 4:39.49 in the 1600, and 9:44.94 in the 3200. Coach Jefferson's personal record time in a 5K in cross country was 16:10.

Assistant Coach
Jason Snapp
After volunteering with the cross country program for several years, Coach Snapp officially joined the staff as an assistant during the 2015 season. He also serves as an assistant coach for the track and field team, overseeing the throws program at AHS. Coach Snapp's oldest son, Camryn, earned a cross country and track & field scholarship to Campbellsville University in 2016.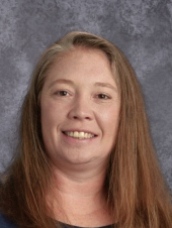 Elementary Coach
Heather Browning
Mrs. Browning began overseeing the elementary program in 2021.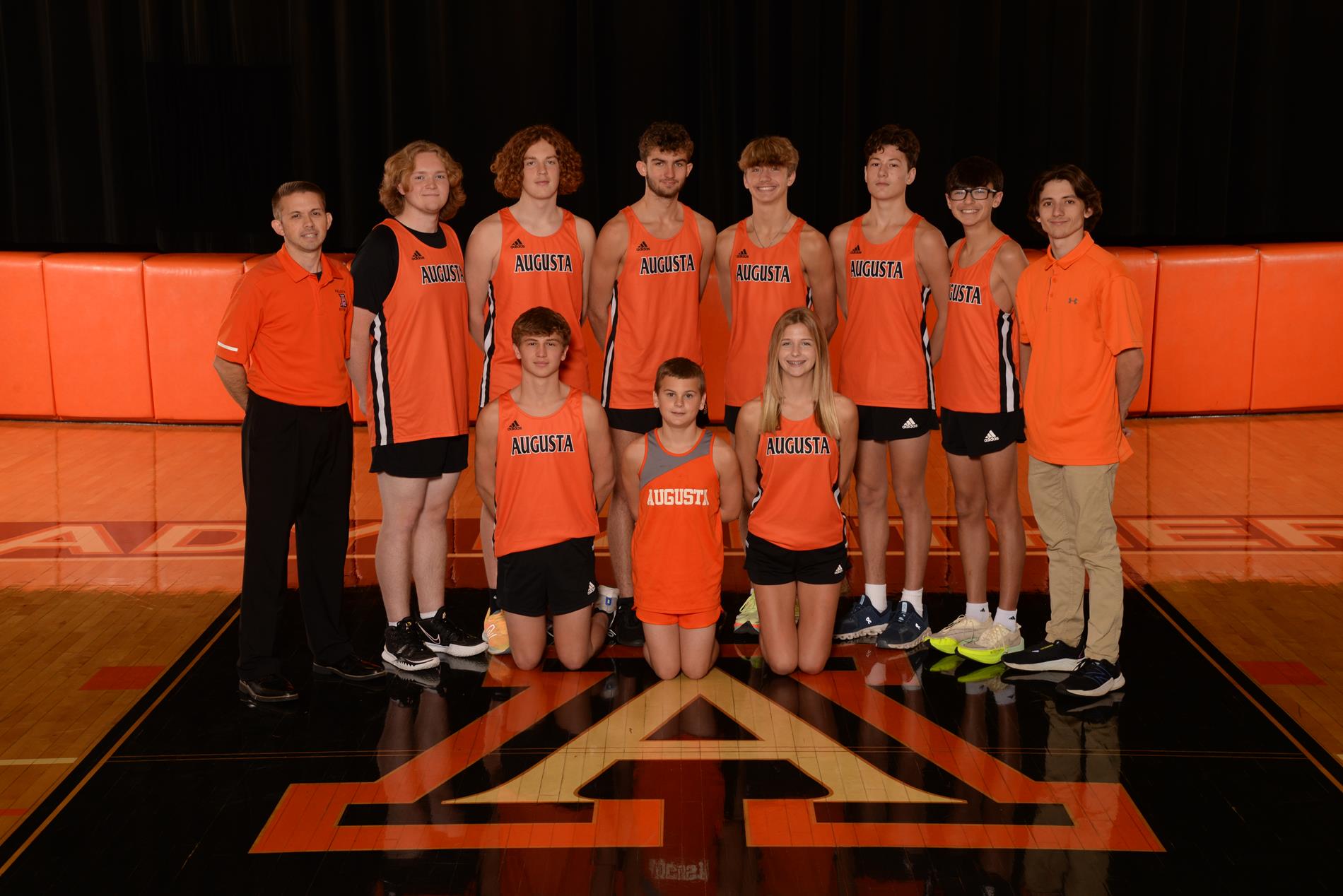 2022 HS/MS Cross Country Team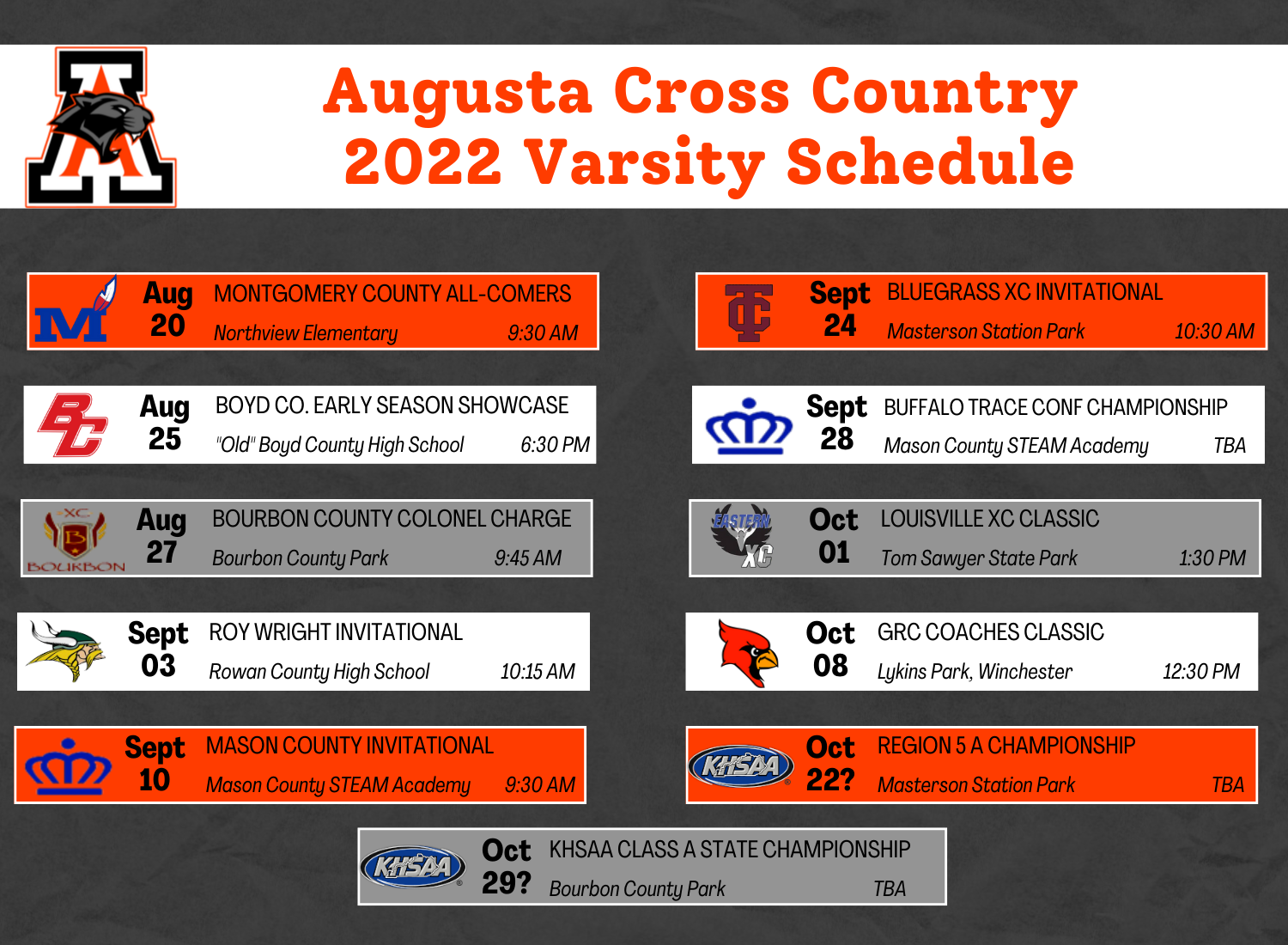 Tentative 2022 Middle School Meet Schedule
| | | |
| --- | --- | --- |
| Date | Meet | Location |
| 8/27 | Bourbon County Colonel Charge | Bourbon Co. Park |
| 9/03 | Roy Wright Invitational | Rowan Co. High School |
| 9/10 | Mason County Invitational | STEAM Academy |
| 9/24 | Bluegrass Invitational | Masterson Station Park |
| 9/28 | Buffalo Trace Conference | STEAM Academy |
| 10/08 | GRC Coaches Classic | Lykins Park, Winchester |
Tentative 2022 Elementary Meet Schedule
| | | |
| --- | --- | --- |
| Date | Meet | Location |
| 9/10 | Mason County Invitational | Mason Co. STEAM Academy |
| 9/24 | Bluegrass Invitational | Masterson Station Park |
| 9/28 | Buffalo Trace Conference | Mason Co. STEAM Academy |
| 10/08 | West Union Invitational | West Union HS |
KHSAA State Qualifiers
(since 2011)
| | |
| --- | --- |
| 2011 | Not eligible for post-season |
| 2012 | Tanner Kelsch, Camryn Snapp |
| 2013 | Camryn Snapp |
| 2014 | Camryn Snapp |
| 2015 | Camryn Snapp |
| 2016 | David Reed |
| 2017 | Boys Team Qualified; Emma Young |
| 2019 | Conner Snapp |
| 2020 | Boys Team Qualified; Braylie Curtis |
| 2021 | Boys Team Qualified; Braylie Curtis |
| 2022 | Boys Team Qualified; Braylie Curtis |