Augusta Boys XC Finish Region Runner-Up as Miller Claims Region Crown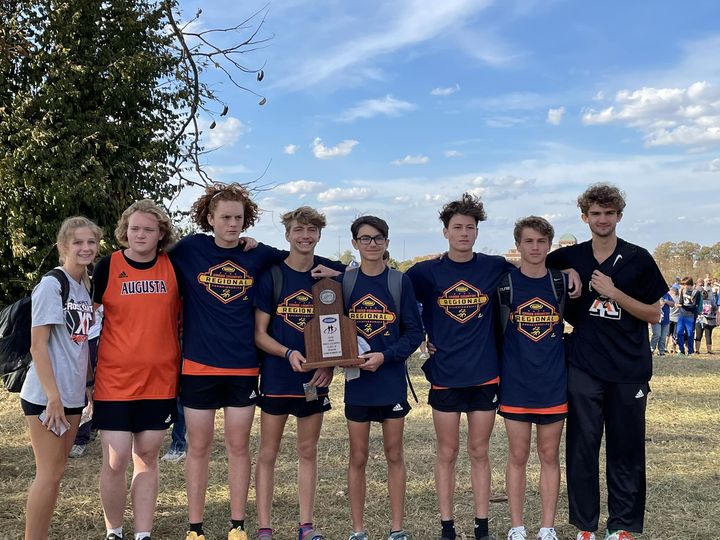 ---
The post-season has arrived for cross country across Kentucky. The Region 5 Class A Cross Country Championship was held last Saturday at Masterson Station Park in Lexington.
There were 102 runners representing 16 teams in the boys race. Throughout the race, the Panthers had two runners in the top six. Grayson Miller and Bryant Curtis were both in the mix near the top of the race at the two-mile mark. Shortly after two miles in, Miller took the lead and never relinquished it. He won the race in 17:17, his first and the cross country program's first individual champion. Bryant Curtis was also a medalist, placing 5th and running 17:46.
Nicholas Mains was in next for the Panthers, placing 18th while running a personal best 19:30. Conner Snapp ran 20:12, while Noland Young ran 20:43, a personal record. John Hamm finished in 21:06, while Braydon Appleman ran 29:09, a PR.
"Felt great and the weather was almost perfect," race winner Grayson Miller explained in discussing the race. "I had good start but it's a fast first mile here, so you have to pace yourself. After the downhill after the second mile, I was able to move into first and extend the lead."
The boys team finished Region Runner-up with 87 points behind LCA who won the race with 64 points. The Panthers were 56 points ahead of Nicholas County, the third place team. It's the third consecutive year the team has had a podium finish after winning the region in 2020 and 2021.
"Grayson ran a smart race," Augusta Coach Tim Litteral said. "The projected winner jumped out fast, but Grayson didn't overreact and ran his race come to him. Overall, to finish Region Runner-Up when we didn't even have a full team the first 5-6 weeks of our season and having 4 runners new to the sport, I think it's impressive. It speaks to the returning talent we had and the hard work that our new guys put in."
In the girls race, there were 69 runners. Braylie Curtis finished 15th overall, running 22:43. The top five individuals not on a qualifying team advance to the state meet. For the 4th consecutive year, Curtis will advance to state, claiming the 4th individual qualifier spot.
"Whereas with the boys race where there was some shuffling through the race, the opposite seemed to occur in the top fourth of the girls race," Litteral said. "Braylie settled into the top 15 pretty early and held that placement. Making state four consecutive years is an impressive feat."
The KHSAA Class A State Cross Country Championship is this Saturday at Bourbon County Park in Paris. The Class A Boys race begins at 10:00 AM, with the girls race following at 11:00.