Miller Leads XC Panthers to Runner-Up Finish at GRC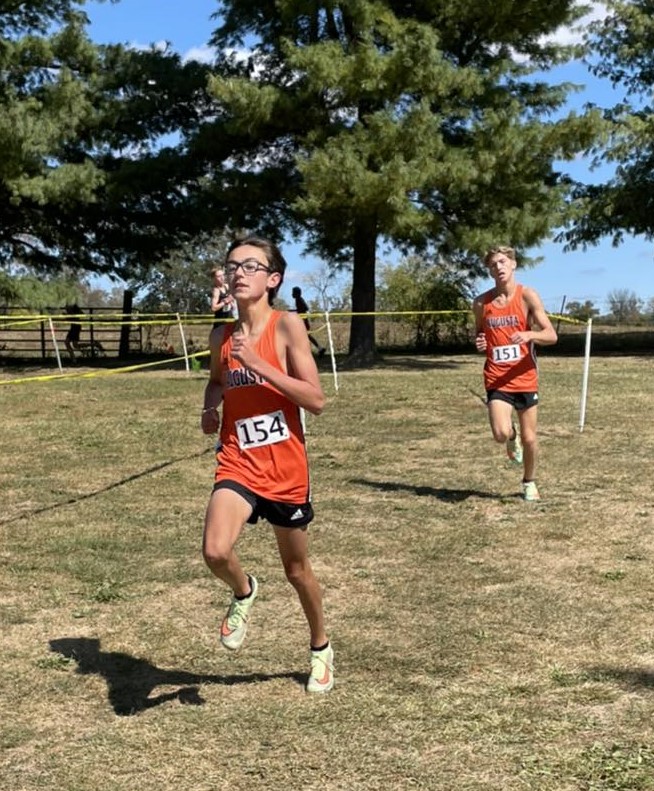 ---
On Saturday, the Augusta cross country team was in action at the GRC Coaches Classic at Lykins Park in Winchester. Augusta has made the trip to Clark County several times over the last decade to compete on the moderately challenging course, including in 2017 when the regional meet was held at the site where the boys team qualified for the state meet for the first time.
In the girls' varsity race, Braylie Curtis settled into the fourth place spot early on, before moving into third place. She made a run at second place and battled with the Woodford County runner down the stretch to the finish, but came up about a second short, finishing 3rd with a time of 22:17.
"Braylie ran a really good race," Augusta Coach Tim Litteral said. "She positioned herself upfront early and battled for those top spots."
In the boys' varsity race, Grayson Miller hung just behind the lead runner for the first half of the race before moving into the lead about a mile and a half in. It was his second race win this season. He held that position for the remainder of the race and increased his lead to win the race in 17:42. Next in for the Panthers was Bryant Curtis, placing 6th and running 18:54. Conner Snapp finished 9th in 19:31, while Nicholas Mains finished 10th in 20:12. John Hamm ran 20:34, placing 14th, and Noland Young placed 15th running 20:55, just one second off of his PR. All of the boys were medalists.
The team finished runner-up, falling to GRC by just three points.
"Grayson ran a smart race, not trying to lead from the start," Litteral said. "I talked to the team about on this type of course, it was more about racing than time since it's not a PR-type of course. We had several guys who raced well, picked off opposing runners, and that's good practice for the regional meet."
Earlier in the day, Jasper Miller competed in his final middle school race of the year. He ran the 4K in 20:12, a personal record. He placed 7th and was a medalists.
On Friday, some runners are choosing to attend the Meet of Champions in Bourbon County. It's an optional race for runners being Fall Break week. It will be the final tune-up before the regional meet on October 22.