GEAR UP Partnering with AIS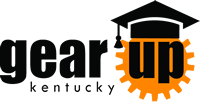 ---
GEAR UP Kentucky has announced that Augusta Independent School District has joined the 11 other school districts being served through a federal $24.5 million grant program.
The program is designed to increase the number of students from low-income communities graduating from high school and enrolling in college or workforce training programs. The Kentucky Council on Postsecondary Education administers the U.S. Department of Education GEAR UP state grant.
Beginning in January 2022, GEAR UP Kentucky is providing direct student services to the entire 8th, 9th and 12th grade classes at Augusta Independent School. The students in the 8th and 9th grade cohorts will receive services throughout the remainder of their secondary school career. For the remainder of the grant (through 2025), all members of each senior class at Augusta Independent School will receive direct services from GEAR UP Kentucky during their senior year and, if they attend one of GEAR UP Kentucky's nine partner postsecondary institutions, during their first year of college.
GEAR UP, which stands for Gaining Early Awareness and Readiness for Undergraduate Programs, provides three categories of services to boost student success: direct services for students and families, school support services, and state and community services. The vision of GEAR UP Kentucky is, "Every student prepared for postsecondary education." Nationally, GEAR UP students apply and enroll in postsecondary education at a higher rate than their peers.
Augusta Independent School District joins Bath County, Bourbon County, Covington Independent, Fleming County, Frankfort Independent, Marion County, Mason County, Mercer County, Paris Independent, Pendleton County and Robertson County in participating in the GEAR UP Kentucky program. GEAR UP Kentucky's nine partner postsecondary institutions include Bluegrass, Elizabethtown, Gateway, and Maysville Community and Technical Colleges; Eastern Kentucky University; Kentucky State University; Morehead State University; Northern Kentucky University; and the University of Kentucky.
Autumn Bishop is the GEAR UP Kentucky district program manager for Augusta Independent School.
For more information about GEAR UP Kentucky, visit www.gearupky.org.